Discover more from Para Bellum
Holding power accountable
Over 1,000 subscribers
Wyoming House Republican Leader Sponsored Provocative Drag Show Attended By Children
Speaker Pro Tempore Rep. Clark Stith supported the show by "Drag For a Cause."
The second-ranking Republican in the Wyoming House of Representatives personally sponsored an event last October where drag performers danced proactively around children.
According to the Facebook page for "Drag For a Cause," Rep. Clark Stith, who represents the 48th District and is the Speaker Pro Tempore of the Wyoming House, is listed as having sponsored an October 2022 event called "Halloween Extreme Music Bingo" in Rock Springs, WY.
Pictures from the event, first flagged by Wyoming podcaster show drag performers dancing around the attendees, including children. It is unclear if Rep. Stith attended the event himself.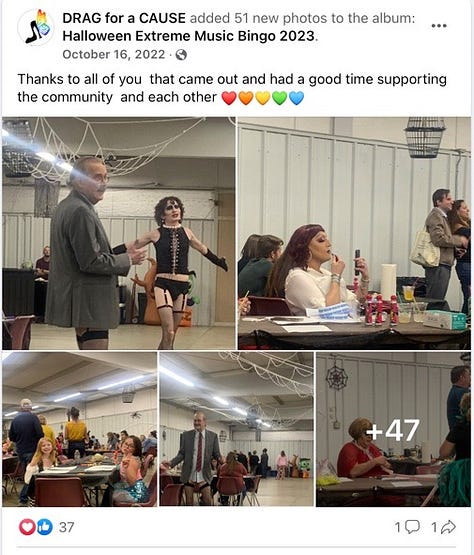 In addition to his role as Speaker Pro Tempore, Stith also leads a group of moderate Republicans in the legislature known as the "Wyoming Caucus," which formed to counter the growing success and influence of the conservative Wyoming Freedom Caucus (WYFC).
During the last legislative session, Wyoming's legislature garnered national attention when the House of Representatives voted down bills that would ban minors from going through sex changes and end grooming in schools. An analysis of voting records by the Daily Wire showed that while the body is supermajority Republican, more legislators have liberal voting records than conservative.
Rep. Stith voted against bringing the Parental Rights in Education bill to the floor. He is also a member of the Appropriations Committee where the bill to ban child mutilation, named "Chloe's Law" after de-transition activist Chloe Cole, was gutted to exclude enforcement mechanisms, as well as a provision prohibiting the removal of healthy tissue of a minor, before it eventually died.
WYFC Chairman Rep. John Bear, responding to the revelations about the drag show Stith sponsored, said "it is egregious that a leader in the Wyoming House of Representatives would condone, let alone sponsor, the grooming of children. A seasoned legislator and attorney in Wyoming should know the dangers of exposing children to such outwardly sexual behavior."
Responding to a request for comment, Rep. Stith said "I did not attend the event. I did not organize the event or have any knowledge or input as to its format. My understanding was that I was contributing to a charity event to raise money for the humane society."